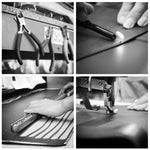 Our British Made collection is 100% made here in the UK.
We carefully sourced a workshop with decades of experience in producing luxury bags so we could make some of the finest bike bags on the market. Based in Hackney, East London the craftsmen and women hand cut the leather, hand stamp the logo, stitch, rivet and finish every bag. We are very proud of our Made in Britain range and we think the craftsmanship shines through.
To compliment the production, we also source the materials as close to home as possible to reduce it's effect on the environment. The hooks are from Germany, the leather from tanneries in Holland, Scotland and Italy, and the buckles are all plated in Northampton. We are always looking to improve our environmental credentials so if you are a local supplier please get in touch.