As cyclists, first and foremost, we truly believe in the importance of protecting the environment and we hope to encourage other people to cycle to not just improve their commute but also to improve their own impression on the planet. 
This is why we have committed to plant a tree for every bag sold. We work with Ecologi, to support their environmental projects on the ground. At the moment the project we are funding is to re-grow mangrove forests on the north west coast of Madagascar. These forests are crucial to help stop the effects of climate change on the coastal villages. Mangrove trees are also excellent at carbon offsetting as they are up to 10 times more effective at hoarding carbon than other ecosystems. As well as this, we are offsetting the carbon footprint of our staff to ensure we have a carbon positive workforce. For more information on the projects we support and to see our forest grow please follow us on our Instagram account. 
Whilst fashion manufacturing has got a bad rep when it comes to sustainability, from the beginning we have put it at the centre of our products. We make our bags to last, which we believe is one of the best ways to help the environment - we don't believe in fast fashion and cheaply made products. We have spent a long time sourcing great manufacturers and we work closely with them to ensure the quality of our cycle bags. All our products are small-batch produced and individually checked three times before being sent to our customers.  
As well as that we have other commitments to reduce our effect on the environment which are outlined below. For us this isn't a fad or a band wagon to jump on, it is a life-time commitment.
As technology improves - such as recycled textiles, manufacturing with less water-usage and recycling technology we will extend our offering. This is something we are always looking to invest in so please do get in touch if you have suggestions or you are a supplier who can help us on this journey.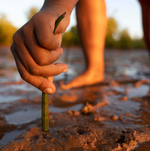 1 BAG SOLD = 1 TREE PLANTED
We are now committed to planting a tree for every bag sold online. We have teamed up with Ecologi, a grass roots organisation helping to replant mangrove forests in Madagascar. 
The forests are regenerated by local planters and all the saplings are native species and grown locally. The mangrove forests protect coastal villages from rising sea levels, protect fish and marine life, and can be up to 10 times more efficient than terrestrial ecosystems at absorbing and storing carbon long term, making them excellent in the fight against climate change.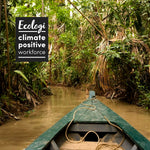 CLIMATE POSITIVE
We are really proud to say we are working with Ecologi to become a climate positive company. Our employees are carbon offset based on their travel and lifestyle and we are working to offset our production. To ensure our transparency you can see how our forest is growing on the Ecologi website under our Hill & Ellis profile. You can also see some of their many incredible projects that we also support.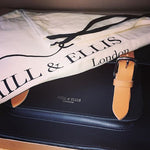 BECOMING PLASTIC FREE
We are working towards becoming 100% plastic free - all the way from our manufacturers to our customers. Our orders are now packaged in 100% recyclable cardboard mailing boxes, our bags are wrapped in ethically produced cotton bags and for protection are wrapped in biodegradable, marine safe, vegetable based, plastic free garment bags. These bags are so easily degradable that they can be dissolved in hot water and they are so safe that they can even be drunk by humans.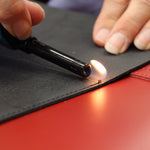 OUR BAGS
We pride ourselves on making cycle bags that are build to last. Our British made bags are crafted in Leather. We are aware that leather has implications on the planet but there are many advantages to using it. Firstly, it is a beautiful material - we use good quality leather and the material itself is long lasting, great quality and ages beautifully. Secondly, leather is recycle-able and can be shredded and re-purposed by tanneries to make recycled leather products. Most recycling centres accept leather.
In addition to all this, our bags are all small batch produced and we work with smaller manufacturers instead of large factories that mass produce. Although this might cost us more, mass production not only reduces the quality and care for workers it also increases product failure during production, which creates unnecessary waste.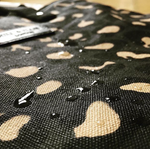 VEGAN COLLECTION
Our canvas range is made from cotton and is silicon coated for water-repellency. We chose this specifically after consulting a team at Greenpeace on the best way to water-repel canvas without harming the environment. Many companies use PFCs or other chemicals to water-repel fabric but this causes harm to both workers and the environment which is something we were not prepared to be part of. 
We are currently working with manufacturers in the UK, Portugal and Italy on a recycled plastic fabric range made from recovered fishing nets and plastic bottles. Please watch this space for that next range.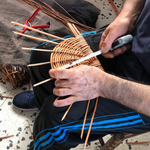 BASKETS
Our natural wicker bike baskets have been handmade in Portugal. We work with a small team of local artisans who manufacture baskets the traditional way using all natural materials.
We use eco paints for the personalisation. They are all waterbased and virtually solvent free with just 0.13% VOC (EU limit value for this product (cat. a): 30g/l). These are handmade and painted to order so we won't waste any baskets that don't sell.