Designed by cyclists who know the ride as much as you do, these bags truly are made for the bike, so as well as looking great, every aspect of their design has been thought out with the cyclist in mind.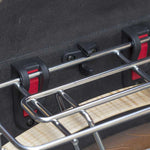 PATENTED PANNIER CLIPS
All our pannier bags have pannier clips which attach seamlessly to the bike. The hooks are made by the world's leading pannier hook manufacturer and they are patented, adaptable and German manufactured.
Most of our hooks are spring-loaded or adjustable, and adapt to any pannier rack from 6mm-16mm in diameter. They also have a security tab which firmly secures the bag on the bike. Our Birkdale cycle bag comes with dutch style clips which easily attach to pannier racks from 8-12mm in diameter.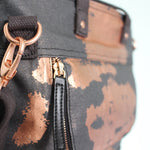 HIDDEN HOOKS
When the hooks are not in use, they can be hidden away under a zip or popper pocket. This feature was developed to improve the look of the bag when off the bike and as the pouch is padded it also makes the bag comfortable to carry when worn on the shoulder.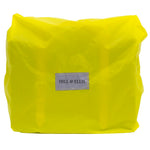 NYLON WATERPROOF COVER
Our cycle bags are designed by Londoners so we know about rain! All our leather cycling bags come with a waterproof rain cover to protect the bag on the bike. Made in durable ripstop nylon, they have an elasticated opening so they can be scooped around the bag, covering the leather and exposing the hooks so they then be clipped on to the bike and ridden in the rain. The rain cover also comes with reflective features to improve your visibility at night.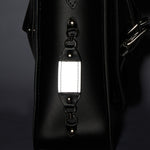 REFLECTIVE DETAILING
All our leather pannier bags have reversible reflective detailing built into the design. As they are reversible they can be hidden in the day and then turned around at night to reveal the reflective material and improving your visibility on the road.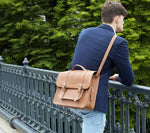 ADJUSTABLE SHOULDER STRAP
Our bags all come with an adjustable shoulder strap so that they can easily and comfortably be worn over the shoulder when off the bike.