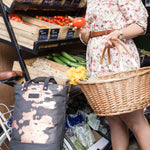 10% of our Profits donated to FareShare this half term
No one should go hungry, so this half term, we will be donating 10% of our profits from all cycle bags and bicycle baskets sales to Fareshare.
Fareshare is a charity that redistributes good quality surplus food to 11,000 frontline charities and community groups. They support school breakfast clubs, school lunch clubs, old people's dinner clubs, and homeless charities to make sure those in need enjoy a good meal. It's an incredible charity and definitely worth checking out. You can support them directly with volunteering, and they are also collecting food at Tesco's stores from 19th - 21st November. Find out more about them here.
10% of profits from all cycling bags and baskets sold this week - 24th - 31st October will be donated directly to Fareshare. We will keep you updated with how many meals we manage to pay for.