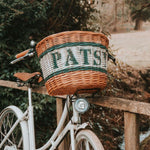 Behind the design: Our Wicker Bicycle Baskets
Workmanship is really important to us at Hill & Ellis and our bicycle baskets are no exception. As we enter the picnic season we thought we would tell you all about our bike baskets - how they are made, what goes into the workmanship and how we go about personalising them. 
Firstly our bicycle baskets are handmade in Portugal, by basket makers who have been crafting baskets for decades. They only use natural brown wicker which hasn't been treated with any nasty chemicals.
Why no chemicals?
Chemical treatment in agriculture is one of the biggest pollutants on the planet. Critically it doesn't just pollute the soil and the surrounding areas, it gets into the water supply and pollutes freshwater, killing fish and polluting water for local inhabitants. Removing chemicals from our production supply chain is really important to us and that is why we work with a producer that uses natural, non-chemically treated willow. 
What's it made from?
Our bike baskets are made the traditional way, with buff brown willow. This is one of the most common willows used in basket weaving and has a beautiful honey brown colour. The get this colour, after the willow is harvested it is boiled in a barrel and then the bark is stripped off exposing the lovely warm honey tone.
Before the willow is ready to be weaved, it is soaked for 5 days to make it more subtle and pliable, it also ensures that the willow doesn't unevenly expand after being weaved (when it dries out) which would turn the basket back into a pile of sticks! After being soaked it is left to semi-dry for 1 day before it is ready to be cut and weaved.
How do you weave the basket?
There are lots of traditional weaves in basketry, but the main 4 are: coiling, plaiting, twining, and wicker. Ours are made with a wicker technique which essentially is one reed weaved in and out of the support rods, creating a really beautiful simple weave. This is particularly good for bicycle baskets as it is really strong and it creates a tight weave avoiding bigger gaps between reeds. 
How do we personalise our baskets?
We didn't want to just sell ordinary bicycle baskets, we wanted to offer something different so we decided to personalise them. All of our bicycle baskets are hand-painted to order in the UK. Again we wanted to avoid harmful chemicals, and standard spray paints are full of them, so we spent a lot of time, looking and testing various paints, and techniques to find a way to use eco-friendly paints that last and look great. So we use a chalk paint, which is water-based and comes in a variety of rich colours. The paint is extremely low in VOC's which are the harmful chemicals. They are virtually solvent free with just 0.13% VOC (EU limit value for this product (cat. a): 30g/l) and spray paints are much higher. 
Is it waterproof?
Yes, to seal the paint and make sure it can endure ride, after ride after ride, we use a double coat of lacquer. And yes you have guessed it, this is also eco-friendly and virtually solvent free. 
What can I get painted on to the bike basket?
We can paint initials, bike names, owners names, or any word of your choosing onto the basket. All our letters are 70mm high so we usually recommend no more than 5 letters as more than that can mean that the word is hard to see at one glance. As well as selecting the letters, you can choose the colour of the letters, the colour of the strips and the colour of the leather straps. 
We don't currently have vegan leather straps but we are working on this so if you want a basket without the leather do let us know and we will source it for you. 
We hope you love our new bike basket range! As well as our adult baskets we also have smaller baskets which are perfect for kids. 
https://www.hillandellis.com/collections/wicker-bicycle-baskets