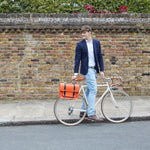 6 reasons why your kids should cycle at University!
Have you just dropped your child at University? Cycling is a great way to travel at University and investing in the vital cycling kit will last longer than their degree. Here are 6 reasons why you should support your newly fledged kids to cycle at Uni. And the basics they need to get going.
IT IS FREE. Apart from the cost of the bicycle and the vital accessories cycling every day is free, no charges, no petrol costs, no bus passes, nada. Lets face it the two crucial things you want them to leave Uni with is 1. A degree and 2. as little debt as possible. The cycle scheme has estimated that switching to a bicycle (from either public transport or driving) could save more than £3000 a year. Even after the cost of buying the bike and vital accessories. That is £9,000 saved for their university life.
IT IS QUICKER. A recent report by INRIX, a data company specialising in roads, found that it was quicker to cycle than to drive, based on last mile speed in 6 major UK cities. With many cities now adopting 20mph speed limits for cars and buses, and significantly better cycle paths and cycle friendly traffic lights – this means cyclists can get across a city faster than ANY other mode of transport. And don't just take their word for it, a report by Find Property found that almost ALL journeys of under 5kms were always quicker by bike and public transport is only quicker if you travel more than 13kms. Based on my University exploits waking up late for lectures, vital time was only saved by pedalling a little faster. Believe it or not, time is of the essence at University and cycling helps you beat the traffic.
IT'S EASY (and FREE) TO PARK. With universities getting bigger and parking charges increasing (some to over £10 a day), switching to a bike from a car is a no brainer. A bike offers zero parking issues, if your child still hasn't perfected the parallel park, cycling will solve the problem. All you need is a lock and they can park up their bike anywhere. As long as the lock is solid, the bike can be left safely overnight - just in case their plans change and the union bar gets extra attention
IT's GREAT EXERCISE. With team sports now being limited, it is really important to keep exercising, and cycling as transport puts exercise into the daily routine without adding extra time. Cycling to and from Uni can provide an hour's cardio activity and can burn off approx. 300 calories and improve muscle strength and tone.
IT'S GREAT FOR MENTAL HEALTH. Numerous studies have proven that cycling is great for mental health – it reduces stress, reduces risk of depression, improves sleep, improves memory, and improves productivity. A recent study by Cycle Scheme found 82% people believed cycling made them feel happier and 75% of people that took up cycling regularly believe it improved their mental wellbeing.
AVOID THE CROWDS. Sadly we are now living in a time of a Pandemic and avoiding crowds and busy spaces is vital. Buses and trains are operating with limited numbers but ultimately they are numerous people in a confined space. Cycling reduces the risk of catching Covid-19 by avoiding contact with surfaces and people who might be infected. It is easy to cycle 2 meters away from any other cyclist and chances of contact are very low. Also as more evidence is coming out showing that obesity and lack of fitness leave individuals more at risk of the effects of Covid, regularly cycling could help protect against the effects of the disease.
So what are the basics your new fresher needs to get in the saddle? Investing well in these vitals will ensure that they all last longer than the 3 years it will take them to get a degree. After which time they are definitely old enough to buy their own kit!
BIKE
Bikes come in all shapes and sizes and the price tag can vary drastically. If they don't have a bike already, it is worth checking out second hand options to save on extra cost, Ebay, Shpock and Gumtree all sell bikes and they are worth hunting out, but always ask for the original receipt to avoid buying a stolen bike. Another tip is to check out local police auctions, where they sell off seized bikes that they haven't been able to trace the owner. If there is one near you they do offer some great offers.
LIGHTS
Investing in good lights is definitely worth the money. USB charging lights are brilliant now; their luminosity is really high, and allows the rider to see and be seen even on the darkest of nights, you can easily recharge them and no money is required for batteries. Beryl and Lezyne are some of the best on the market at the moment.
LOCK
A good lock will make sure the bike doesn't get nicked. D-Locks are the best as they are the hardest to break open and some brands like Kryptonite offer a key guarantee so you don't need to worry about the key going walkabout. If the key is lost they will replace it – just make sure it's registered first.
HELMET
No required by law but not wearing a helmet is just not worth the risk. And now with companies like Dashel and Closca, creating well-designed helmets, that are stylish to wear, helmets are on trend.
PANNIER BAG. Investing a bag that attaches to the bike, is vital, it takes the strain off the back and reduces those embarrassing back sweat moments. And this is where we come in. Our pannier bags are built for life on and off the bike. They are also small batch produced and crafted to last so they will handle the daily life of being on and off the bike. We use patented pannier hooks, which attach securely to the bike, and all our bags have a 1 year guarantee.
We will also plant a tree for every bag sold and we can include a handwritten note from you to them with every order in case you want to let them know you love them.